The sharing economy is ready to take over MRI machines, now that it has conquered bikes, cars and apartments.  Berlin-based medneo is offering physicians and hospitals clinical MRI images on a pay-by-case basis, letting them skip buying the expensive machines.  And it dramatically improves customer satisfaction by reducing the wait time for MRI scans from several weeks to few days. All this because they crafted an innovative business model in a mature industry.
Startups are ideas looking for a business
When it comes to looking at business models and especially new, innovative business models, there is no better place to look than at start-ups. It is the very nature of a start-up to find and craft a business where one didn't exist before (read also the truly inspiring blogs of Steve Blank).  They for sure know that they will not be able to successfully compete against incumbents due to a lack of resources, experience and reach.
medneo is intent on shaking up the health care industry with a new way of doing business in the mature diagnostic imaging industry (see also my former blog on Lady Gaga disrupting the music industry). This case is especially interesting because the medneo founders all used to work for an established player in this industry. So while they were aware of how the existing players captured value, they were not tied to those, and had the ability to look beyond and see what a different approach could do. This is not often the case as new business models often come from outsiders of the industry that they are consequently shaking up.
The idea for selling clinical MRI images instead of machines
We met one of the founders, André Glardon, in 2010, when he was pursuing his Executive MBA at the European School of Management and Technology in Berlin. During our class on strategic innovation we started discussing his observations and ideas for the health care industry, where he was then working for one of the leading manufacturers of medical equipment.
Recent market drawbacks made him realize that the standard business model of selling premium Magnet Resonance Imaging (MRI) machines to hospitals and private practices was coming under more and more pressure. This was mainly due to the increasing cost focus of hospitals and also health care insurance companies. At the same time he saw additional demand by physicians for good quality clinical images, but due to the size of their medical practice could not afford the MRI machine.
His idea was to offer physicians to acquire the clinical MRI image and pay for it on case base, a "pay-per-use" model.
This very different approach to realizing revenues by selling clinical images instead of machines determined a lot of other changes in the business model. As an illustration we have roughly drafted the new business model of selling clinical images using the business model canvas by Alexander Osterwalder.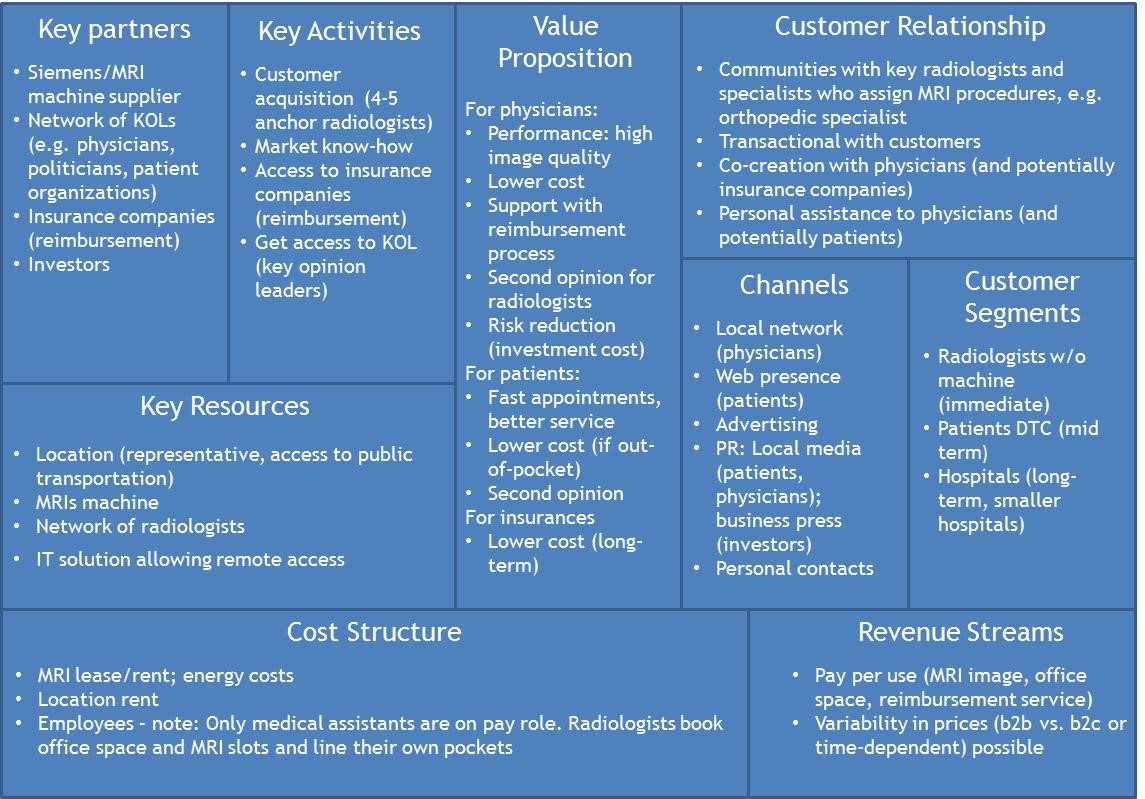 Testing radically new radiologic service assumptions against reality
It immediately becomes obvious that every element of the business model had to be put to the test and redefined for the new approach. But as this was a new approach, most of the elements of the new business models were mere assumptions. It was crucial for André to find ways to test these assumptions fast and inexpensively.
At the heart of their new business model was the development of proprietary software. This software enabled medneo customers to get access to the clinical images at their own convenience and from wherever they happened to be. Furthermore they develop a highly efficient room lay out and well-designed patient handling processes in order to maximize capacity usage. They decided to specifically target physicians without large imaging machines and smaller hospitals. This was a very different target group to the one they knew and targeted in their former company that produced diagnostic imaging machines. As key partners they identified insurance companies that would help them reach their customers. The insurance companies were interested in this new business model as it would potentially help them lower the cost per patient.
The first radiology center called "medneo – Radiology as a Service" opened doors July 2012 in the very heart of Berlin. The innovative business model allowed the three founders to offer the right product at the right moment in the market – for physicians as well as for patients. The second center in Berlin will open in July of this year as well as a third center at the end of the year outside of Berlin. Than 3-4 Centers will follow per year.
Learnings:
market is bigger than initially expected (much more segments are interested in completely managed diagnostic pay-per-use solutions)
It turned out that IT-developments around the business model are key success factors – such as web-based RIS/PACS architecture, iPad- and web-archive-solutions for referring physicians
Services around the pure scanning are valued by customers (e.g. additional IT-services, referring physician marketing, billing)
Collaboration with health insurance companies are important but not that important than initially thought
illustration
Credit : 401(K) 2013/Creative Commons
Source : http://wamc.org/post/business-community-worried-about-rising-healthcare-costs-massachusetts